Earn Up To $462 Per Sale With $3000 In JV Prizes
First-To-Market Software Creates A Completely Automated SPORTS Affiliate Website Loaded With Built-in DFY Amazon Store and News From 900+ Football, 372+ Basketball, 255+ Hockey, 1368+ Tennis,580+ Cricket Leagues & Cups 
Free Hosting Included – Automatic Blog Post Builder - Wordpress Supported
Launch Ends On
24th SEP
11:59 PM EST
SportSitePro Is The First-To-Market 1-Click App Creates A Completely Automated Sports News Affiliate WEBSITE In Less Than 60 Seconds…
Instantly Loaded With A Built-in Done-For-You Amazon Store and  News From 900+ Football, 372+ Basketball, 255+ Hockey, 1368+ Tennis,580+ Cricket Leagues & Cups 
You can SELL Your Visitors Your Own Products Or Affiliate Offers, Place Banner Ads, Generate Income With Adsense, PropellerAds & so much more…
Here Is Why You 
Should Promote SportSitePro
We have got congruent funnel

packed

with upsells that make SportSitePro the powerful tool for our subscribers to generate good results and big commission online

I ALWAYS recip.

Promote the SportSitePro launch

and we will do the same for you when you release something that fits our list..

SportSitePro comes loaded with robust features

that enable you to create automated sports affiliate website loaded with so many sport leagues and cups and products to sell in seconds.

We have used high-quality,

professional

designers, videographers, and copywriters

to make sure you get the best conversions and make as much money as possible

You can make

up to $462 per customer

with our congruent funnel that's filled with upsells that are proven to convert.
Sign up to get into touch for IMPORTANT launch and leader board updates. Nothing else
We've developed proprietary artificial intelligence that lets you Tap Into A Pool Of 3.5 Billion Sports Fans Across 200 Countries…
Some Forms Of Sports Are Like A Religion In Countries Around The World.
For example:
Soccer or Football is king in virtually all of Europe, South America, Africa, the Middle East, Central America, and Asia. 
Football/Soccer has roughly 3.5 billion fans worldwide and 250 million players across 200 countries around the world.
Meanwhile India, Afghanistan, Pakistan, Nepal, and Bangladesh count cricket as their favorite sport. Cricket has 2.5 billion fans.
​
Not to mention American Football, Ice Hockey, Baseball, Basketball,Tennis - they have huge fans around the world.
What if you have the power to engage these billions of fans and convert them into paying customers completely hands-free?
What if There is A Brand New Ground-Breaking Software Creates A Full-Blown Ready-To-Profit Self-Updating SPORTS WEBSITE In in just a click… 
Get Launch and Contest Update, 
Nothing More:
​
​
                          STARTING:                                               ENDING: 
      SEP 20th   AT 11 AM EST            SEP 21th   AT 11:59 PM EST 
​
​
​
                          STARTING:                                               ENDING:
 SEP 22TH AT 12 AM EST               SEP 23TH   AT 11:59 PM EST
​
​
​
                         STARTING:                                                   ENDING:
   SEP 24TH   AT 12 AM EST                 SEP 24TH  AT 11:59 PM EST
Note : In order to qualify for a prize, you need to earn at least the same amount in commissions or you'll receive Prize on Pro-Rata Basis.​
No teams - every man and woman for themselves
Create A Fully Functional Sports News Affiliate Website In 3 Simple Steps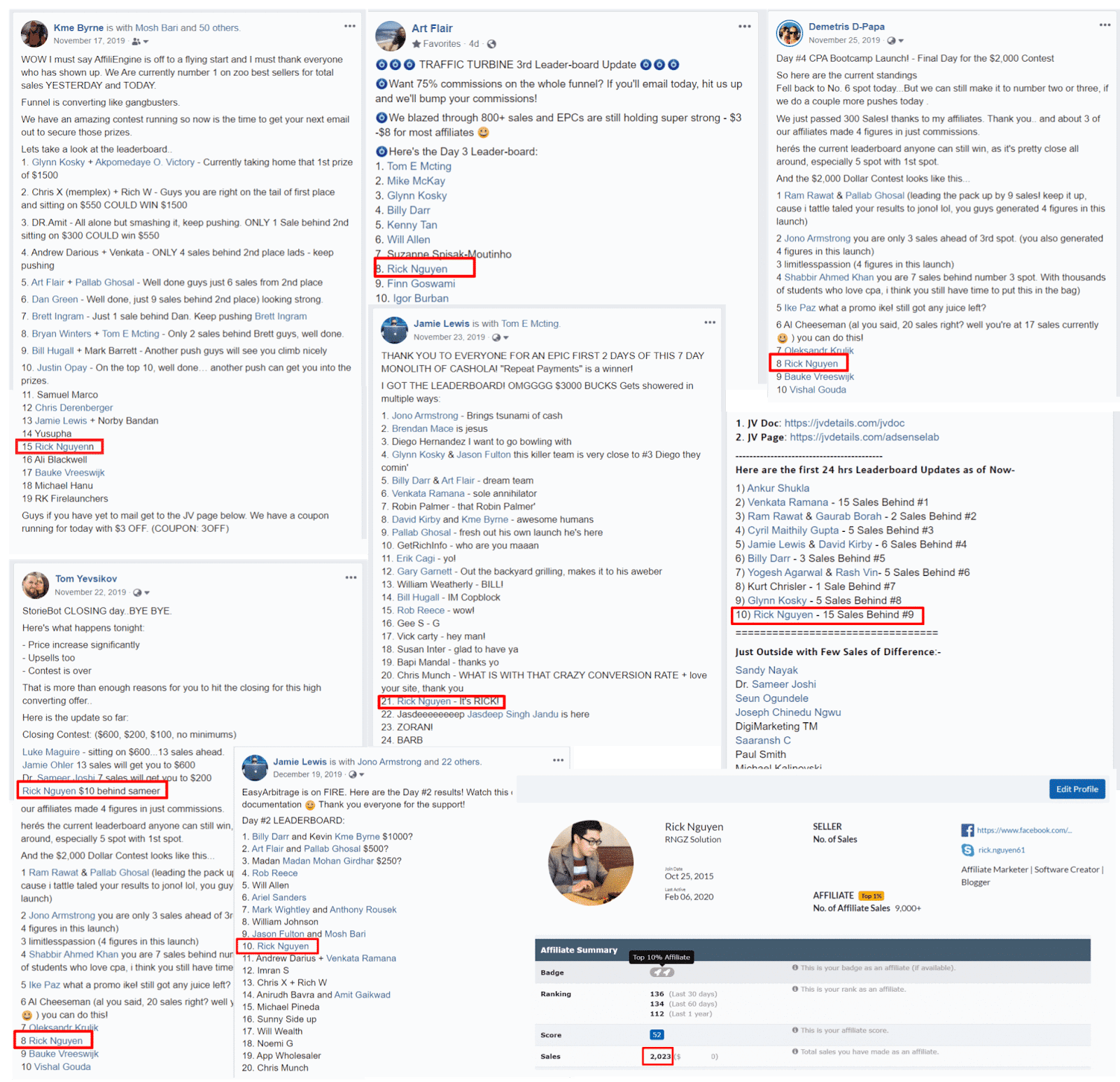 If You Need Review Copies, Product Demos, Swipes, Bonuses Get In Touch With Us
Facebook
/ricktheinternetguy
Check Out A Sample Site Created By SportSitePro
​
-Work In Any Niche 
-100% Newbie Friendly
-Fully Customisable
-Unlimited Interactive Videos For Better Engagement and Conversions
-Dedicated and on-going support
-Promote products/Grow Social      Profiles/Show Guidance/ Show    Directions/Collect Leads/Segment Your  Viewers through unlimited interactive  elements placed on the video.
-Get Unlimited Social Traffic Using Our In-    Built Bulk Social Schedule App
Here Is What You Get When Promoting SportSitePro
Build A Completely Automated Sports Affiliate Website In Seconds.
FE: SPORTSITEPRO REGULAR ($17)
Loaded With 900+ Football, 372 Basketball, 255 Hockey, 1368 Tennis, 
580 Cricket Leagues & Cups + 8000+ Sport Products To Sell
OTO1: SPORTSITEPRO UNLIMITED ($47)
OTO2: SPORTSITEPRO ADVANCED ($67)
OTO3: SPORTSITEPRO TRAFFICACADEMY($37)
Work 1-on-1 With Our Support Team and We Will Setup and Build DFY Sports Affiliate Sites For You.
OTO4: SPORTSITEPRO DFY ($97)
Access To Our Premium Traffic Academy Which Will Show You All Free Traffic Methods To 10X Sales For Your Sports Sites
Place a fancy popup on your site to automatically collect leads
Auto-capture email leads to your dashboard
 DFY Content Pack: Get 100+ Targeted Sport Content Sources To Your SportSitePro Account
Place Live Chat and Facebook Comment Box On Your Site
Place Google Pixel and Facebook Pixel On Your Site To Retarget Visitors.
INCLUDES commercial rights - users can create & sell sports affiliate website to client
Unlimited site license - users can create as many passive income sports affiliate sites as they want
Wordpress Plugin Included To Build Sports News Content On Your Wordpress Site.
Series of in-depth training videos shows all the ins and outs of the software.
Monetize Your Sports Website Using Banner Ads Or Google Adsense
Automatically creates blog posts for your site using our DFY Blog Builder Module
Monetize Your Sports Website With Amazon Affiliate Program
Web-Based App, So There's Nothing To Install.
Marketing ToolKits Included
Create Unlimited SportSitePro Accounts For Your Clients
OTO5: SPORTSITEPRO AGENCY ($197)
Add Your Own Blog Posts To Your Sports Affiliate Site
And Another Raging Trend Is The Rapid Growth In Affiliate Marketing
Affiliate marketing is a global industry worth well over $12 billion and The affiliate marketing networks carried out more than 170 million transactions worldwide.
Can You Imagine The Profit Potential If You Combine The Both?
SPORTS Industry And AFFILIATE MARKETING
I know the results were going to be absolutely mindblowing…
But We Need To Accept The Truth Creating A Sports Affiliate Website Is a Daunting Task because:
-It takes time to build a site from scratch
-You need to spend huge money on hosting, domain,freelancers, writing blog posts
-It requires complicated web design skills
-It needs huge research time + working time to collect sports news plus sport events to your site, even writing relevant blog posts need an army of employees to do
Step 1: Login To SportSitePro Cloud-based app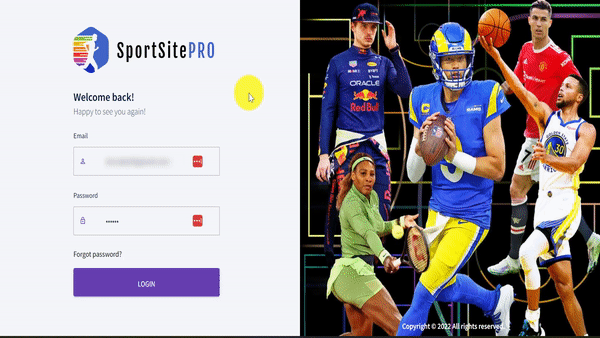 Step 2: Watch As The App Instantly Creates A Completely Automated Sports News Site Loaded With News From 900 Football, 372 Basketball, 255 Hockey, 1368 Tennis, 580 Cricket Leagues & Cups + 8000+ Sport Products In Multiple Niches In Less Than 60 Seconds.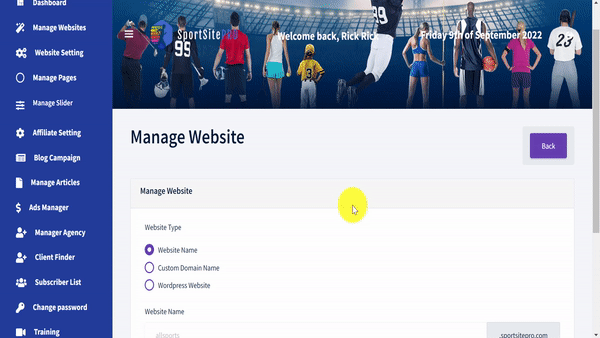 Step 3: Generate Millions Of Visitors Every Month & Send Them To Your Built-In DFY Amazon Store. Watch Your Sales & Conversions Skyrocket.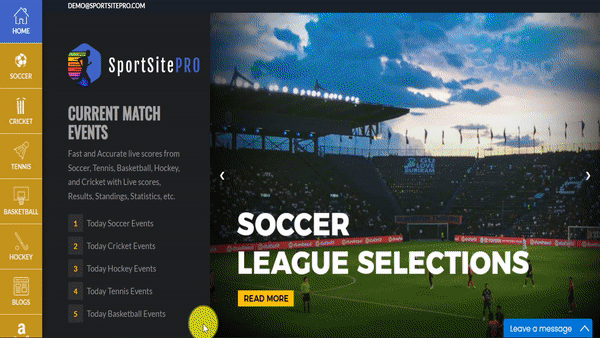 Setup push-notification on your sports news site
Unlock All Amazon Categories To Sell Different Amazon Products In Multiple Niches On Your Sports Website